Taste of Paris in the Big Apple: Top French Restaurant in NYC
There's a good reason why Jacques Brasserie is often listed among the best French restaurants in NYC. From the moment you step through our doors, you're transported to France – without ever losing New York's vibrant energy. Everything from our decor to our menu speaks to this fusion of French flair and excellence with New York's unmistakable energy and passion.
Once you take your seat, you become a part of the story of Jacques Brasserie, a story that began in Paris over 100 years ago. This history is woven into the fabric of everything that we do, timeless traditions and tastes ready to be savored. Prepare to be charmed as our warm and friendly staff gives you the personal attention that makes you feel at home.
Popular Flavors in French Cuisine
Our menu represents the very best a French restaurant in NYC has to offer. Dive into each course for a diverse array of flavors, guided at every turn by our capable staff. No matter your preferences, we'll help you choose the perfect meal. Relax with a glass of hand-picked French wine while you savor each delicious moment with us.
A classic way to begin your French culinary journey is with escargot. Set aside any qualms you might have about eating snails – this quintessentially French appetizer is an experience for all of your senses. Snail meat has a similar texture to mussels or clams and soaks up the flavors of the garlic, butter, and parsley sauce to create a rich, complex taste experience. 
If you're looking for a starter on the lighter side, try our watermelon salad, served with frisée lettuce, feta cheese, and dry cranberries. Or why not indulge in an assiette de fromages, a cheese plate featuring your choice of curated French cheeses served with apple slices, grapes, and a baguette?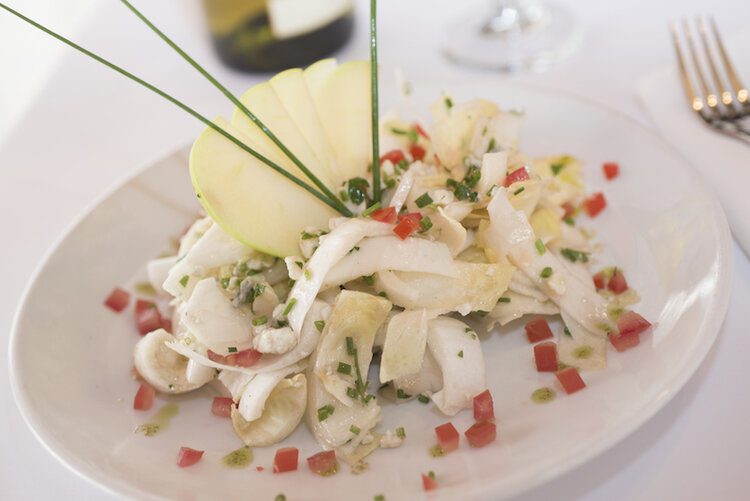 Much of French cuisine follows the principles of cooking simply, but well. This allows the flavors of the food itself to shine rather than letting an abundance of spices and sauces take over. Our chefs treat our top-quality ingredients with the care they deserve, crafting every dish with time-honored French cooking techniques.
French chefs make use of a variety of cooking methods, from sauteing to flambeing, to create food that is a treat for all senses. It's not just about the taste – every dish should be a feast for the eyes, evoke mouth-watering smells, and have just the right texture. As one of the best French restaurants in NYC, our chefs have the training and expertise to use these deceptively simple tools to make culinary magic. Whether poaching, broiling, grilling, or braising, our food is made with skill and love.
French cooking is a combination of precision and artistry; there's a reason why it is often seen as the height of sophistication. Herbs are often used to add unexpected, sometimes delicate, flavors to dishes. The traditional Provençal herb mixture, les herbes de Provence, includes rosemary, thyme, oregano, and lavender. Another common herb used in French cuisine is bay leaves, known more for adding dimension to the dish than for their own strong flavor.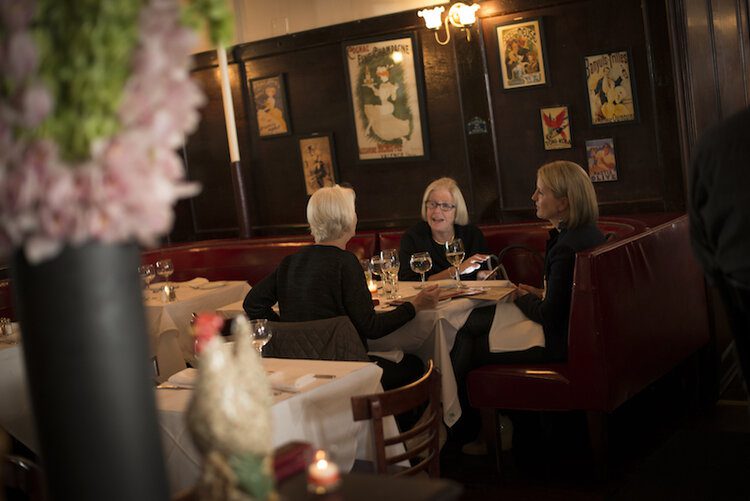 What to Wear to a French Restaurant in NYC?
With all the care, technique, and attention to detail that goes into the food, visiting a French restaurant should always be something of an occasion. Even if you're "just" meeting a friend for lunch, remember the French approach to food: it's an event, a cause for celebration in its own right. 
At the best French restaurants in NYC, therefore, the dress code is usually more formal than casual. While you don't need to be dressed to the nines, it's a good idea to add a dash of French sophistication to your look. It's an opportunity to pull out the items in your closet that you love but never get a chance to wear – why not dress up and enjoy the occasion?
No matter your style, you are welcome to join us at Jacques Brasserie for brunch, lunch, or dinner. Take a look at our menus on our website and get in touch with our team to make your reservation.